Enhance your MPI software with 4medica 1% as-a-Service™ – Guaranteed!
If you have bad data coming in, you're going to have bad data going out. This means medical decisions are at serious risk if the wrong result is attached to the wrong patient. Patient safety issues arise when information is incorrect, and revenues are lost if the billing is inaccurate or orders management is inefficient.
Only 4medica offers a MPI clean-up service that guarantees a 1% duplication rate using its revolutionary and proven combination of MPI matching technology with automated intelligence and proprietary processes. Its skilled staff of data scientists provide data stewardship services foundational for data integrity.
No other vendor offers a performance guarantee! The unique combination of the outcomes-based power of the automated intelligence in the 4medica Big Data MPI™ and data stewardship services ensures your duplication rate is at or below 1% and stays there. 100% Guaranteed!
Sign-up to schedule a demo!
What makes the 4medica clean-up service different?
4medica 1% as-a-Service™
The 4medica 1% as-a-Service™ offering is a real-time, transactional, virtual service leveraging a proven combination of technology, people and processes to achieve a single digit duplication rate.
Expert data scientists
A team of data scientists trained as data stewards work on your behalf to clean and maintain your MPI data hygiene to a 1% duplicate rate or less.
AI and real-time analytics
4medica uses advancements in automated intelligence and analytics with an embedded rules engine that automates both critical and high-volume decisions to better define and improve the accuracy of the matching sequence.
Service-based platform
Scalable service-based data clean-up program to ensure ongoing data hygiene at 1% duplication rate.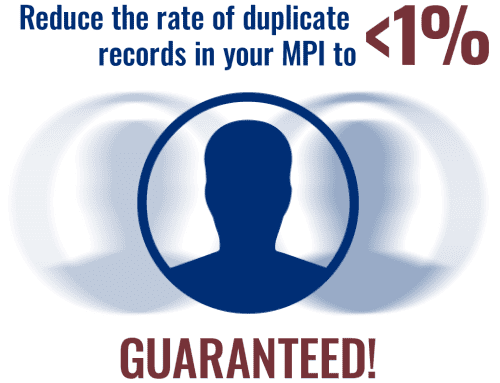 ---
Want more info on 4medica 1% as-a-Service™ and 4medica Big Data MPI as-a-Service™? Download the data sheet: