This article was originally written by Prudence Vincent and published by Journal of AHIMA. Click here to see article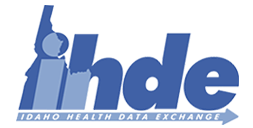 Idaho Health Data Exchange (IHDE), located in Boise, is Idaho's statewide health information exchange. IHDE is a nonprofit organization dedicated to meeting the needs of healthcare providers and ensuring that Idaho's citizens receive the most effective health services possible. Since its inception in 2008, IHDE has added services such as direct messaging and engaged in collaborations to improve patient care statewide while reducing costs. Further technology enhancements planned by IHDE include an enrollment management tool, a consent management tool, an analytics platform, a telehealth platform, a remote patient monitoring system, and a social determinants of health platform.
The Challenge
While IHDE had made some progress through 2019 in gaining primary care participation and use of the organization's portal, barriers to broader adoption included an inability to aggregate reliable longitudinal records and structured data. Technological limitations impeded the sharing of patient data among IHDE members, undermining efforts to coordinate community shared services. Recognizing that its ability to support value-based care and population health initiatives was being jeopardized, in 2020, IHDE's new management team worked to transform the organization's health information infrastructure as part of a stakeholder-oriented ecosystem, focusing on data completeness, reliability, and quality, with identity management as the critical starting point.
More specifically, IHDE needed to find a way to match more than 5.1 million inbound clinical messages from multiple healthcare delivery settings to build comprehensive, accurate patient records that would enable better care coordination to improve patients' health statewide. IHDE hoped to accomplish this by 1) identifying the needs of statewide payers, providers, and other stakeholder organizations; and 2) implementing new technology solutions to improve patient data quality and data sharing.
The Stakeholders
IHDE had an internal vendor selection team comprised of members with data management, clinical, and operational responsibilities. Additionally, IHDE solicited input from its technology consultants who oversee other data integration applications, such as the clinical data warehouse and business intelligence solutions.
After a thorough search for the right enterprise master patient index (eMPI) vendor partner, IHDE selected 4medica—One Patient…One Record—to integrate the 4medica Health Data Quality Platform, consisting of the 4medica Big Data MPI® (4medica Big Data Master Patient Index) and the 4medica MPI-as-a-Service™. Together these technologies provide a comprehensive data management solution that includes data quality assessment, initial data cleanup, and ongoing identity management (in a real-time process) for ensuring a guaranteed duplication rate of one percent or less.
The Plan
The first step was to focus on identifying data quality issues relating to patient demographics, particularly by improving identity management and reducing duplication rates. A four-layer process designed to reduce duplications through eMPI (e.g., scoring, rules engine, machine learning), referential matching, data enrichment, and data stewardship review/management to create a solid foundation for patient safety, data integrity, and real-time data interoperability.
IHDE's goal has always been to use these technologies to build complete longitudinal health records that would incorporate multiple data stakeholders, including providers, public health, behavioral health, and health plans.
One of the early wins was normalizing and standardizing data—including unstructured data—from multiple labs and other sources. To successfully achieve aggregation of patient data, a deep dive into the consistency and accuracy of codes was required, and the accessibility of complete and viable records once in the designated enterprise data warehouse. One significant issue identified was uncoded data, which was corrected by creating a new data onboarding process including stricter user acceptance testing.
The entire data quality improvement and change management process was achieved in less than three months, with an unprecedented 99 percent database accuracy.
Results and Next Steps
By using these real-time, transaction cloud-based data management solutions, IHDE was able to successfully match more than 5.1 million messages while reducing duplication rates by 94 percent. Duplication rates plunged to less than 1 percent from 18 percent prior to implementing the solutions. This resulted in making more than 2.8 million searchable patient records available to IHDE participants. Further, IHDE was able to have the cloud-based data quality platform deployed live within 90 days from the start of implementation. The new platform gives providers across the state "access to health records regardless of where the patient receives care. It brings a full-spectrum picture to patient care and enables providers to look at whole-person care —the right care, at the right time, in the right place —in a way that makes sense to Idaho's healthcare ecosystem."
The new platform is attracting "growing interest and energetic engagement" from payers, hospitals, health systems, federally qualified health centers (FQHCs), physician practices, and rural health centers desiring access to IHDE's shared data services and patient records, according to Dr. Craig Jones, chief medical officer of IHDE.
Lessons Learned
IHDE's decision to bring in this technology was the right solution at the right time. A key lesson learned was to avoid purchasing yet another software application or referential matching service without the other strategic data management offerings. The most crucial element that made our initiative a success in less than 90 days was the identification of data quality issues, the means to correct them, and ongoing data stewardship and advisory services.
Prudence Vincent is the director of customer operations and engagement with the Idaho Health Data Exchange.