Because they deal with patient data from multiple sources and health systems, health information exchanges (HIEs) and health information networks (HINs) are among our most frequent clients.
It's crucial that their data be of high quality because their revenue sources, like health plans and provider organization memberships, rely on it to be timely and accurate in order to enhance patient safety, reduce readmission rates, provide deeper insights to social determinants of health (SDOH), and improve operational efficiency.
We're proud to have recently added East Tennessee Health Information Network (etHIN) as a 4medica client. Established in 2005 and headquartered in Knoxville, etHIN reaches 80% of communities within its geographic market and contains records of patients from all 95 Tennessee counties who have been treated in the eastern part of the state, along with those of patients from other states who were treated in the area.
Like many other HINs, etHIN is hampered by excessive duplicate patient records due to mistakes at registration and other points of data entry. As staffers at various hospitals, clinics, labs and practices struggle to locate information on a patient in their systems, they often opt to create another file for the patient rather than spend more valuable time searching.
But the new patient record might lack important clinical information included in the existing record, while the older record won't include data added to the new record. Bottom line: Whichever record providers access will give them an incomplete view of the patient.
This not only endangers patients, it also leads to higher healthcare costs as tests and procedures that already have been conducted are redone because clinicians lacked access to complete patient records.
To solve the problem, 4medica will use its cloud-based Data Quality Platform to improve patient matching and health data quality. 4medica will begin by conducting a thorough assessment of etHINs.
Recently featured in EHR Intelligence, etHIN CEO Pam Matthews explained the importance of having high-quality data to share with clients and why she hired 4medica to tackle patient duplication rates.
"It was a natural fit," Matthews said of the AI vendor partnership. "We are already working with our participants on their data quality, and this is just one more additional value add that we can help provide."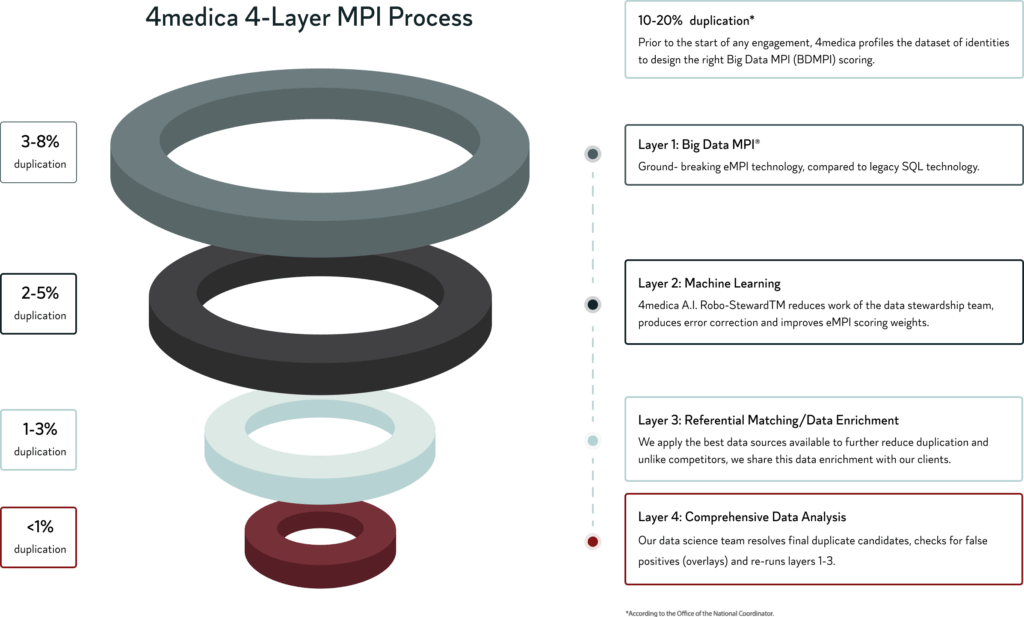 At the end of the day, cleaner data benefits the patient, she said.
"Fundamentally, the EMPI work should never end because that's not how you achieve data quality," she said. "As an organization, we have a valuable asset. That asset is patient data, which impacts patient care and the decisions made, as well as analytics. We have to be the data stewards. That is our responsibility."
We look forward to helping etHIN achieve its goals and produce high-quality data for all its members.
Talk With An Expert About How To Reduce Duplicate Patient Records